Tenggol Island, the southernmost island in Terengganu, is a hidden gem amongst the cluster of islands that form the Terengganu Marine Park. The island group, which includes Pulau Nyireh, Tokong Timur, Tokong Burung and Tokong Talang/Tokong Kemudi and Tokong Laut, is blessed with numerous stunning beaches and trails that cross the 3 by 2km island, perfect for light trekking.
While Tenggol is less crowded than the other islands to the north, it is a well-known magnet for hardcore divers seeking adventure. With 20 dive sites around the island, divers can explore the rich marine life and experience night diving, diving around shipwrecks, and deep-sea diving. Some parts of the sea surrounding the island are known for strong currents, which attract experienced divers who take it as an adrenaline-pumping challenge.
One of the most sought-after marine creatures in the waters around Pulau Tenggol is the migratory whale shark, which typically appears from August to October. As divers descend into the waters of Tenggol for its rich marine life, so do the whale sharks. For divers seeking close encounters with larger marine life, spotting a whale shark is a once-in-a-lifetime experience as they do not linger in any one location for long.
While Tenggol is known for its diving possibilities, non-divers can also enjoy snorkeling around the island, though Perhentian Island may be a better choice for this activity. With its pristine natural beauty and diverse marine life, Tenggol Island is a paradise waiting to be explored.
Tenggol Island is home to several popular dive sites, such as Tanjung Api, Tokong Timur, Tokong Laut, Tanjong Gemuk, and Pulau Nyireh, with an average diving depth of around 21 meters and a maximum depth of about 35 meters. The best time for diving at Tenggol is between April and early October, when the waters are calmer and the weather is favorable. Divers can enjoy the colorful coral gardens and diverse marine life, such as whale sharks, bumphead parrotfish, turtles, yellowtail fusilier, nudibranchs, giant clams, stingrays, and batfish. If you dive from March to May, you might also catch a glimpse of manta rays in the area.
How to  reach Tenggol
Terengganu is a state located on the east coast of Peninsular Malaysia, known for its beautiful beaches, islands, and cultural attractions. There are several ways to reach Terengganu:
By plane: The main airport in Terengganu is the Sultan Mahmud Airport, which is located about 15km from the city center of Kuala Terengganu. You can take a direct flight to Sultan Mahmud Airport from Kuala Lumpur, Johor Bahru, and Singapore.Malaysia Airlines and AirAsia offer daily flights from Kuala Lumpur International Airport (KLIA & LCCT) to Kuala Terengganu. Once you arrive at Kuala Terengganu, you can take a public bus or a taxi to Kuala Dungun, which takes about an hour. The bus ride is relatively cheap, costing only a few ringgits, while a taxi will cost you around RM60. Once you arrive at Kuala Dungun jetty, you can arrange for a boat to take you to Tenggol Island. The island is situated 25km from the coast, so it takes around 50 minutes by boat to reach your resort.Alternatively, you can take a flight by Firefly from Subang Airport, which is closer to Kuala Lumpur than KLIA/LCCT, to Kerteh town. From Kerteh, it only takes a 20-minute taxi ride to reach Kuala Dungun. This option is more time-efficient if you're traveling from Kuala Lumpur.
By car: If you are driving from Kuala Lumpur, take the East Coast Expressway (E8) and follow the signs to Terengganu. The journey takes about 4-5 hours, depending on traffic conditions.
By bus: There are regular bus services from Kuala Lumpur, Johor Bahru, and other major cities to Terengganu. The journey takes around 6-7 hours from Kuala Lumpur.
By train: The nearest train station to Terengganu is the Wakaf Bharu Station in Kelantan, which is about 50km from Kuala Terengganu. From there, you can take a taxi or bus to Terengganu.
Overall, Terengganu is well-connected and easily accessible by various modes of transportation.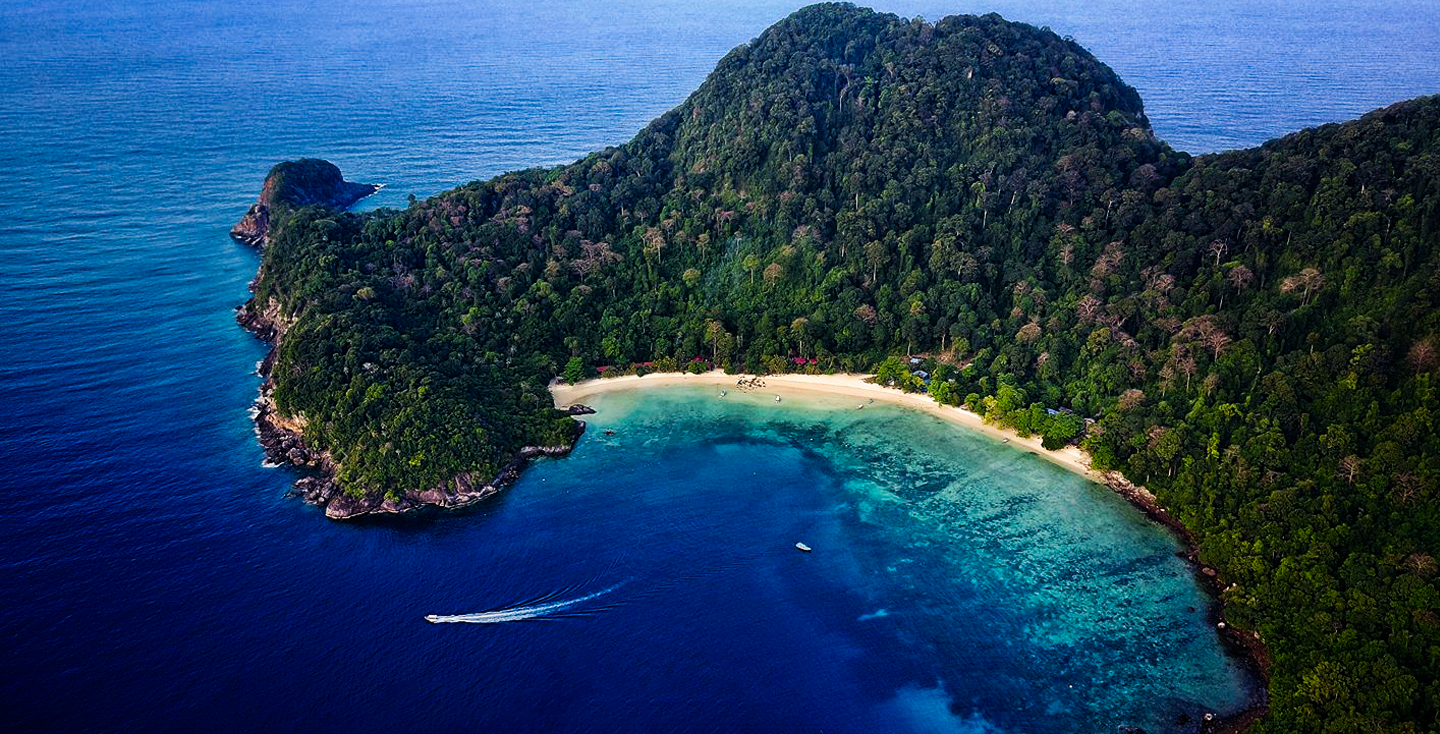 Important notes
ATM: It's important to note that there are no ATMs available on Tenggol Island, so visitors should plan accordingly. While some resorts may accept credit cards, it's recommended to bring enough cash to cover expenses during your stay. Visitors can find an ATM in Kuala Dungun or at the Kuala Terengganu Airport. It's also worth noting that there are no shops on Tenggol Island, so visitors should bring all necessary supplies from the mainland.
BEST TIME TO VISIT :It is important to note that Tenggol Island is closed to visitors during the monsoon season from October to February. This is due to the severe weather conditions during this period, and most of the resort staff will temporarily move to the mainland. The best time to visit Tenggol Island is from April to early October, when the weather is calmer and more conducive for outdoor activities.
Discover the Pristine Beauty of Pulau Tenggol
Discover the beauty of Pulau Tenggol, a small yet stunning island located off the southern coast of Terengganu, Malaysia. This three by two kilometre island is part of a group of islands that includes Pulau Nyireh, Tokong Timur, Tokong Talang, Tokong Burung and Tokong Kemudi (Tokong Laut). With a rich history, the island was once uninhabited until Vietnamese refugees who fled by boat were stranded on its shores after the Vietnam War.
Pulau Tenggol boasts crystal clear waters and rugged terrain covered with dense jungle, surrounded by beautiful steep cliffs. The island has two pristine beaches, located on Teluk Ayer Tawar and Pasir Tenggara, where visitors can enjoy the stunning scenery and relax under the tropical sun.
For adventure seekers, Pulau Tenggol is a must-visit destination, offering some of the best diving experiences in Peninsular Malaysia. With over 20 dive sites, divers can explore enchanting wrecks, vibrant coral reefs and an abundance of marine life. From whale sharks to nudibranchs, there is no shortage of fascinating creatures to discover in the island's surrounding waters.
Dive Sites in Tenggol
Tenggol Island is a diver's paradise with its vibrant marine life, underwater caves, and colorful coral reefs. With over 20 dive sites surrounding the island, Tenggol offers an incredible diving experience for both experienced and novice divers.
One of the most popular dive sites is Tanjung Gemuk, which features a large underwater cave that divers can explore. This dive site is also known for its strong currents, making it a thrilling and challenging dive.
Another popular dive site is Tokong Burung, where divers can spot schools of barracudas, jacks, and trevallies. This dive site is also home to large boulders covered in colorful soft corals and sea fans.
Divers looking for a unique experience should check out the Tenggol Coral Garden, where they can swim through coral-covered arches and tunnels. This dive site is also a great spot for macro photography, with numerous species of nudibranchs, shrimps, and crabs hiding in the colorful coral reefs.
For experienced divers looking for a challenge, the House Reef offers a thrilling night dive with the opportunity to spot various nocturnal sea creatures such as octopuses, eels, and cuttlefish.
Overall, Tenggol Island's dive sites offer a diverse range of underwater experiences that are sure to captivate divers of all skill levels.
DCIM100GOPROGOPR0986.JPG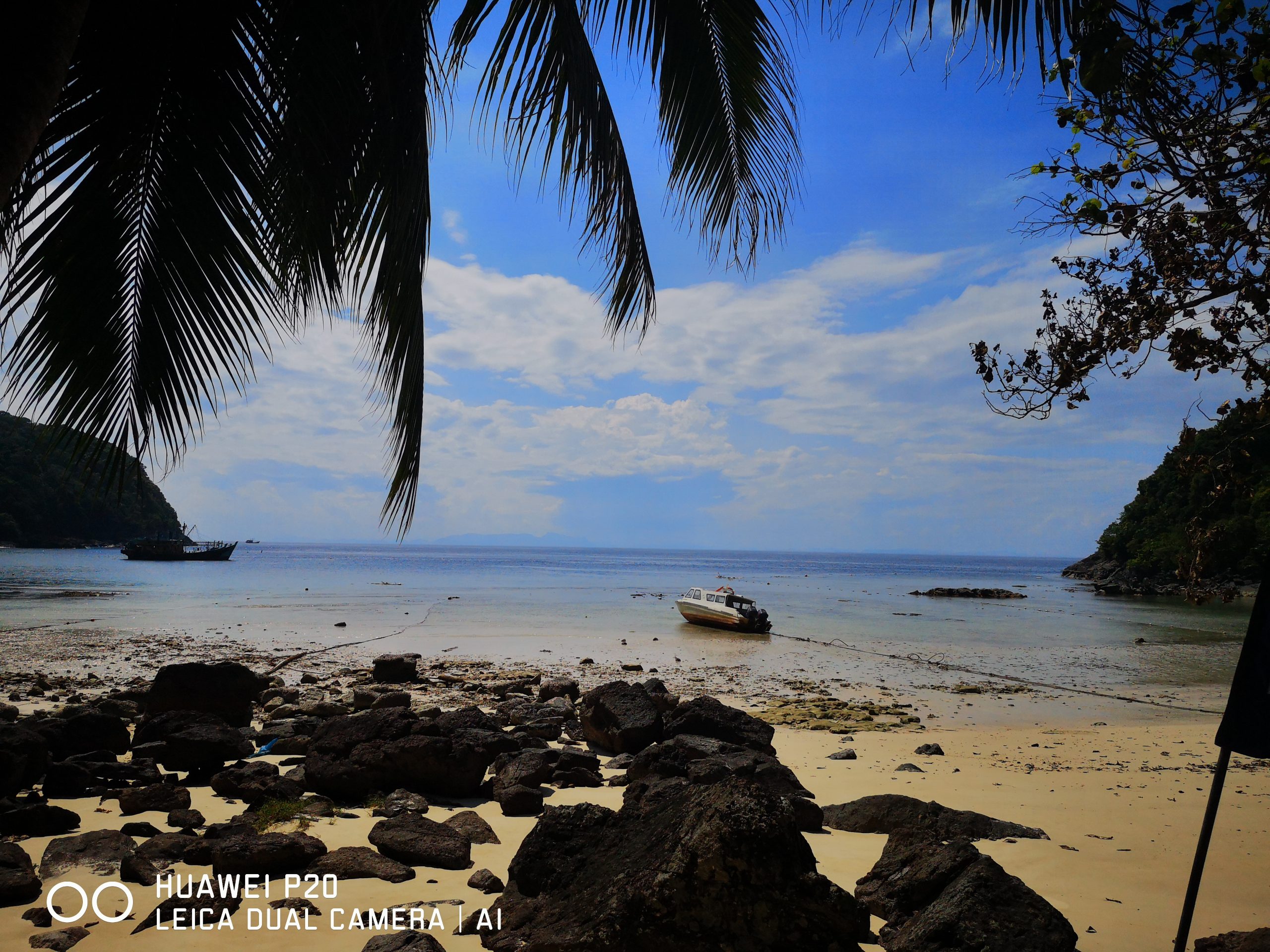 Shallow Reef
Turtle Point is a shallow fringing reef dive site located on the western side of Pulau Tenggol. The site begins at a depth of around 4 meters and gently slopes to approximately 18 meters. It is an ideal spot for novice divers, with a sheltered location in a deep bay. The area is teeming with vibrant reef fish and fascinating marine creatures. Divers may even catch sight of guitar sharks and eagle rays in the deeper sandy areas on occasion.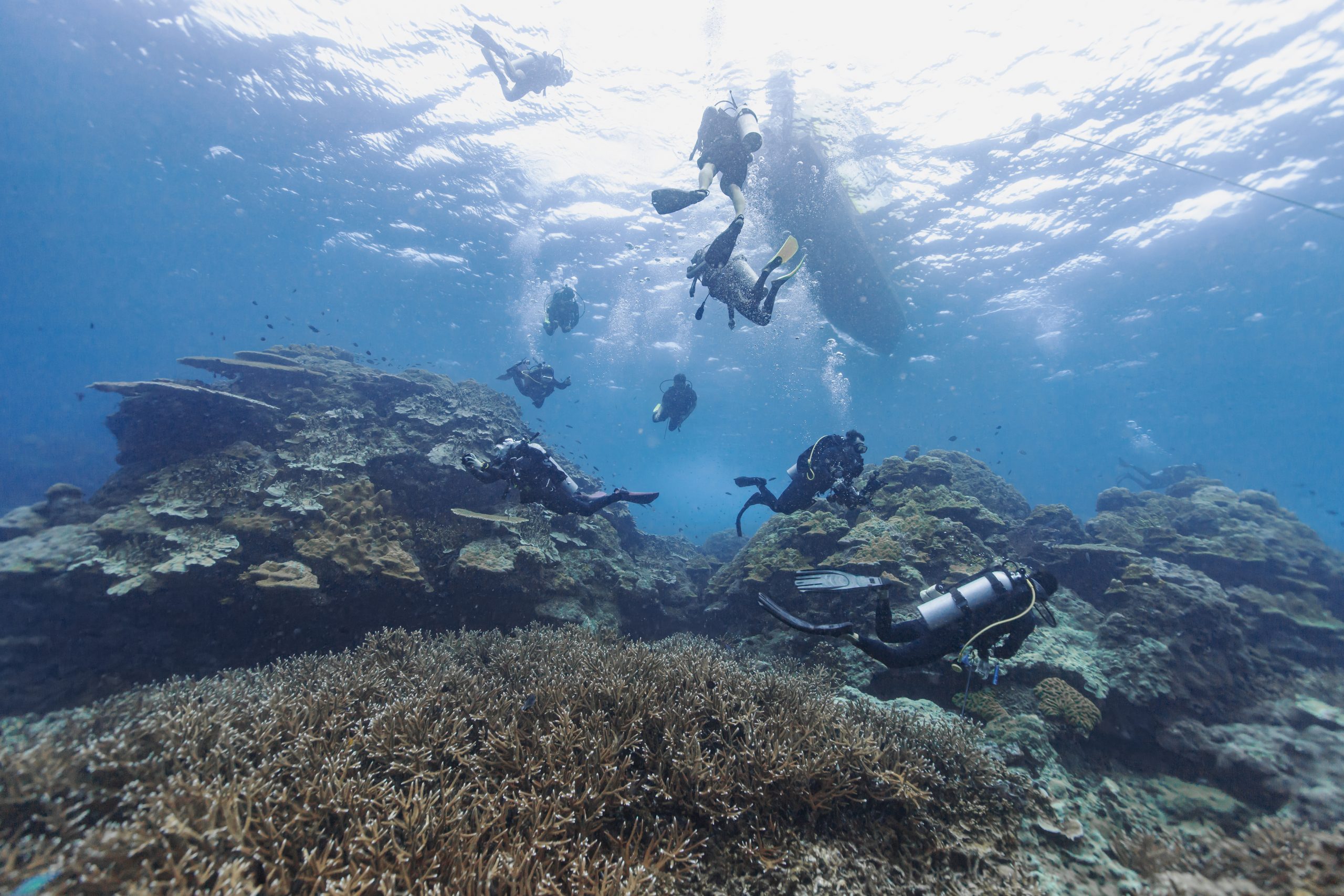 Pinnacles & Boulders: Exploring the Depths of Tenggol Island
Tenggol Island is home to an array of dive sites that cater to both novice and seasoned divers. Among the top dive sites are the submerged rock formations and pinnacles that offer challenging conditions and an opportunity to encounter big pelagics. These sites can reach depths of up to 40 metres, making them a favourite among experienced divers. Divers can expect to see giant trevallies, bonitos, barracudas and the magnificent whale shark. Popular sites include Tokong Timur, Tokong Burung, Tokong Talang, Tokong Laut, Tokong Dolah, Berolok and Fish Bowl.
For those who prefer exploring deep sloping reefs, Tenggol Island also has much to offer. Sites like Amazing Grace and Tanjung Gemok boast healthy coral formations and huge soft coral colonies. On a clear visibility day, the view is simply breathtaking. These dive sites are perfect for divers looking to immerse themselves in the beauty of the underwater world.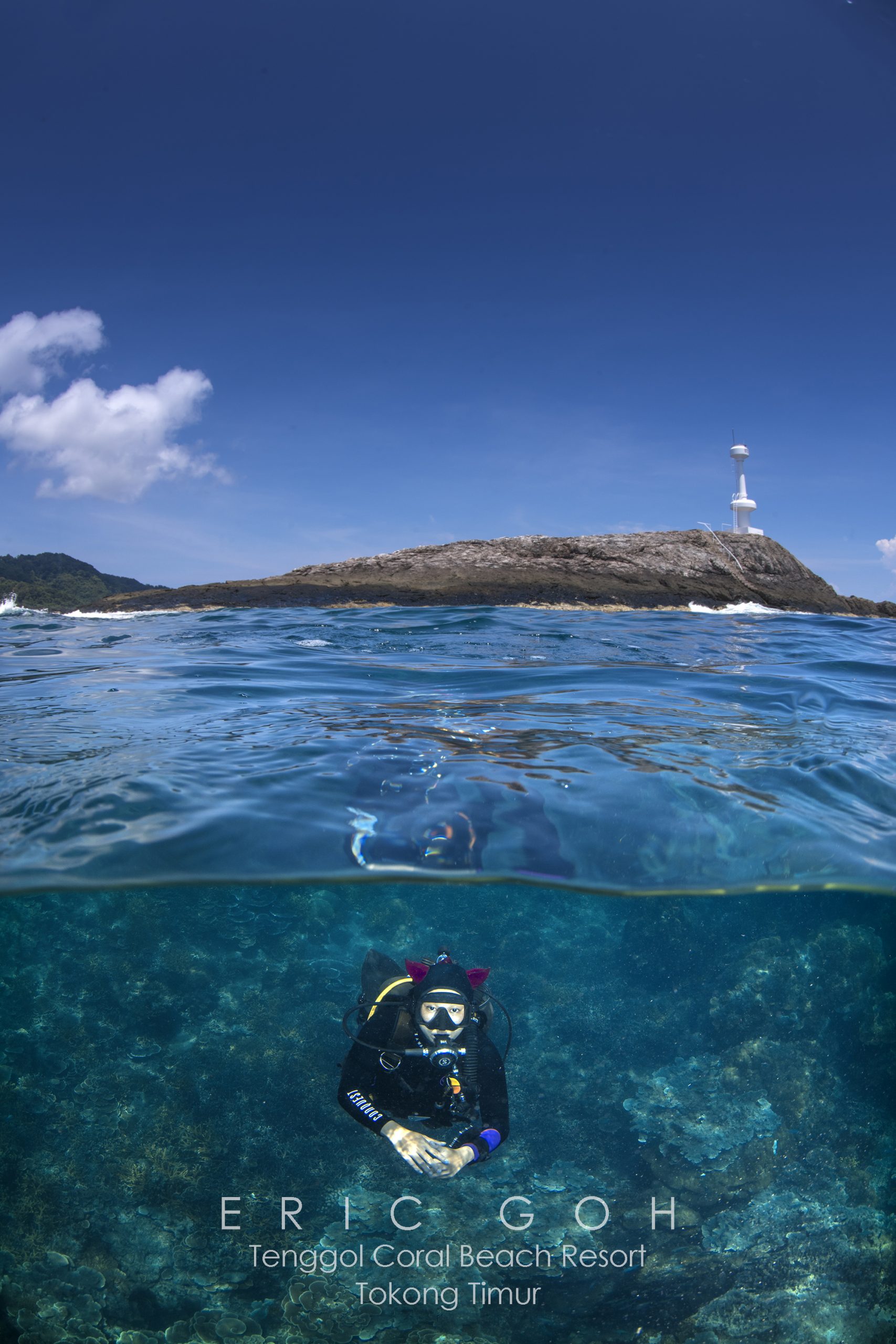 Drift Dive
Experience the thrill of drift diving at Tenggol Island, thanks to its ideal location with strong currents. Advanced divers can take on the challenge at famous sites like Moon Raker, Mini Highway, and Tanjung Api, where the deep and lengthy areas are perfect for drift diving. As you glide along with the currents, you'll be mesmerized by the beautiful scenery and have the opportunity to spot hunting pelagic creatures. This is not an activity for the faint-hearted, but for those seeking a thrilling adventure underwater.
Macro Dive
Tenggol Island's underwater world is not just about the big pelagics and beautiful reefs, but also has a lot to offer for macro enthusiasts. Wall dives around the island are particularly popular among macro hunters, especially those who are into underwater photography. The dives are relatively calm and tranquil, allowing divers to take their time in searching for tiny marine creatures. Nudibranchs in vibrant colors, elusive ornate ghost pipefish, and curious shrimps are just some of the macro species that can be found in the area. These wall dives offer a great opportunity for critter lovers to explore the island's diverse marine life in a more relaxed and focused manner.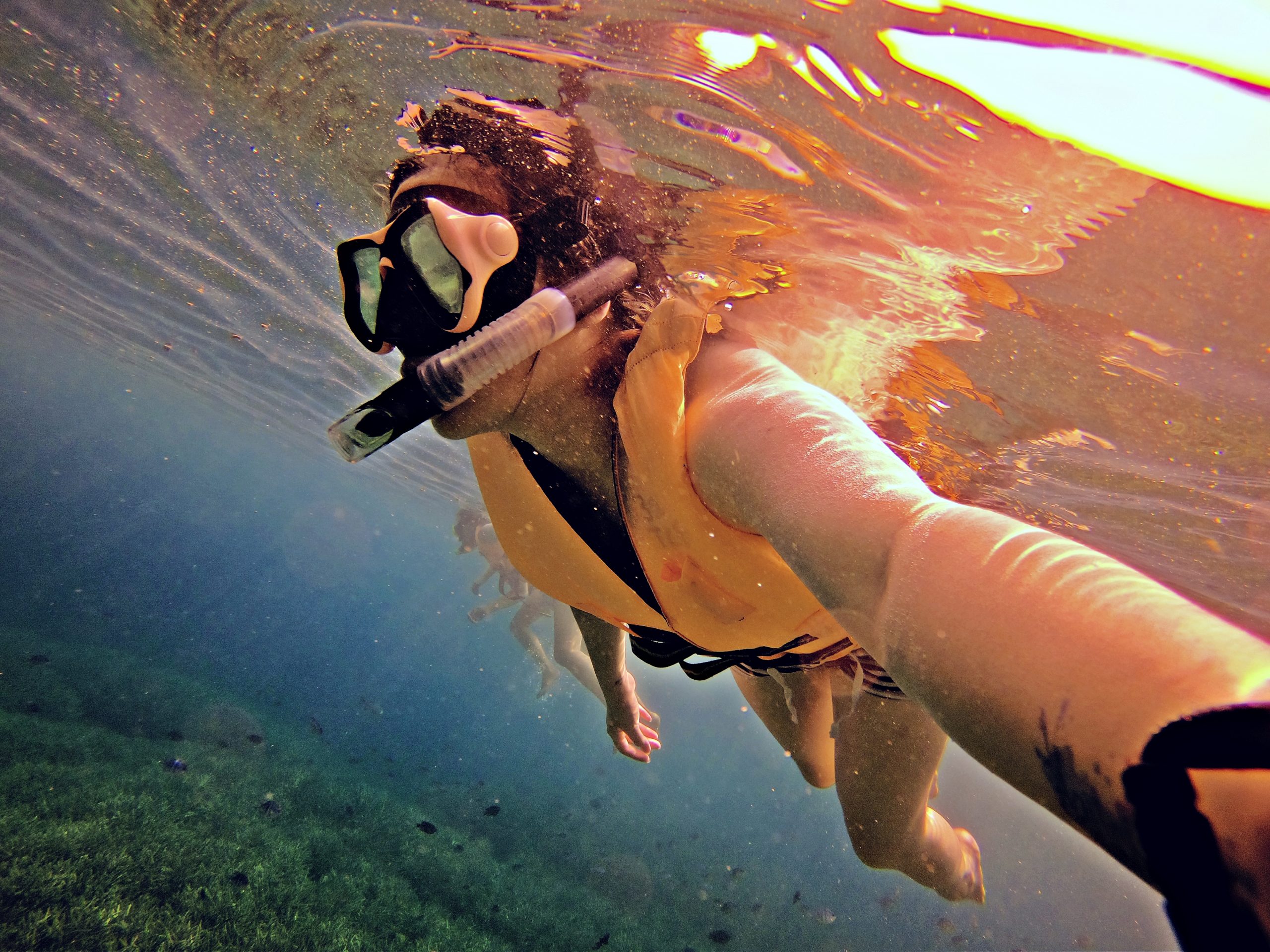 Dive into History: Exploring the Wrecks of Tenggol Island
Tenggol Island offers a unique diving experience for those who seek adventure and history. The Malaysian Marine Park Department has deliberately sunk several vessels around the island to create artificial reefs, providing a fascinating backdrop for divers. Fisherman Wreck, Deep Wreck, Sawadee Wreck and Five Sisters Wreck are accessible to most divers with advanced certification training. The wrecks are located at various depths, with the deepest being at 34 metres, which is still within the recreational depth limit.
Apart from the artificial reefs, Tenggol Island has two other wrecks with historical significance – Kapal Kain (Cloth Wreck) and Propeller Wreck. These wrecks were sunk several decades ago, and diving here is strictly limited to Technical Divers due to the extreme depth of over 50 metres.
Exploring these shipwrecks offers an exciting glimpse into the past and provides an opportunity to observe marine life that has made these wrecks their home. With Tenggol Island's clear waters and diverse marine life, wreck diving is an experience not to be missed.
Tenggol Island boasts a range of unspoiled dive sites, with much of the reef remaining intact. The surrounding islands are also blessed with various reef types, making them well-suited for divers of all levels, from beginners to technical divers. Most of the dive sites are accessible throughout the diving season, but the southern part of the island is ideal from March to late June, while the northern part is best from the middle towards the end of the season, which is in late October.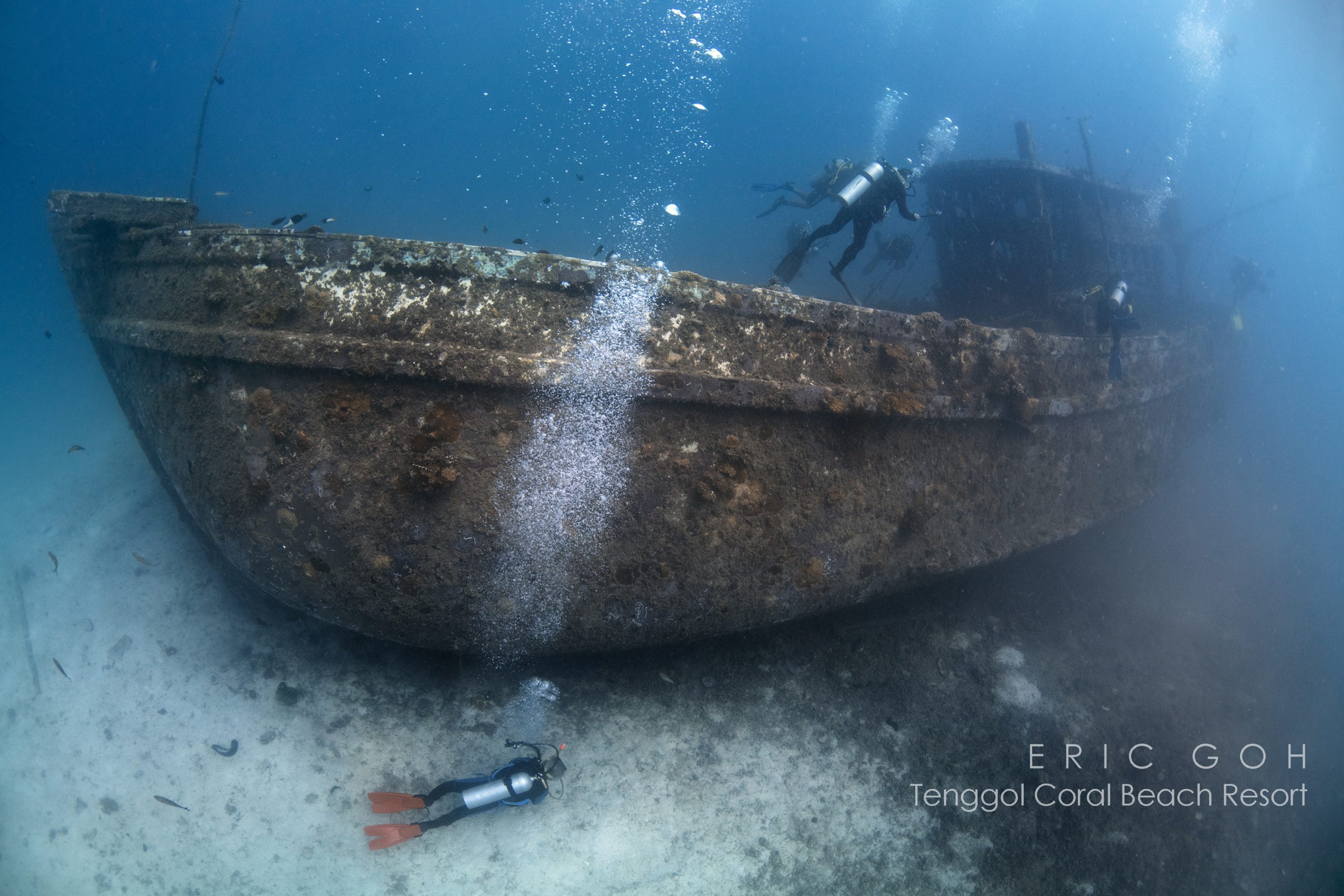 Nearest Boat Jetty : Kuala Dungun
Tenggol Island, also known as Pulau Tenggol in Indonesian and Malaysian, is located 14 nautical miles (26 km) off the coast of the peaceful fishing town of Kuala Dungun, Terengganu in Malaysia. This small rocky island, covering less than 50 hectares with a length of 3 kilometers and a width of 2 kilometers, is a stunning and tranquil destination in Peninsular Malaysia's east coast, boasting magnificent cliffs that host numerous fantastic dive sites. What makes Tenggol Island special is that it remains largely unspoiled and preserved in its natural state, with pristine white sandy beaches fringed by lush forested hills, providing an ideal escape from urban life. Visitors can engage in a variety of activities, including snorkeling, scuba diving, jungle trekking, or simply relaxing on the beach.
Kuala Dungun, a coastal fishing town in the Malaysian state of Terengganu, is easily accessible from Kuala Lumpur as it is only 366 km away and takes around 3.5 to 4 hours to drive on the new highway (LPT2). Once an important port for iron ore imported from the neighbouring town of Bukit Besi, which was a bustling mining town from the 1940s until the early 1980s, Kuala Dungun now has a laid-back and tranquil atmosphere. However, the town comes alive every Thursday night when the night market or "pasar malam" opens up, offering a vast selection of food stalls and used imported goods. The night market is one of the biggest in Terengganu and is a must-visit destination for food lovers.
Kuala Dungun boasts several beaches, including Pantai Teluk Lipat, Pantai Teluk Bidara, Pantai Batu Pelanduk, and Pantai Teluk Gadong. In the evenings, many locals flock to the beaches for kite flying, fishing, or to simply enjoy the stunning views with family and friends.