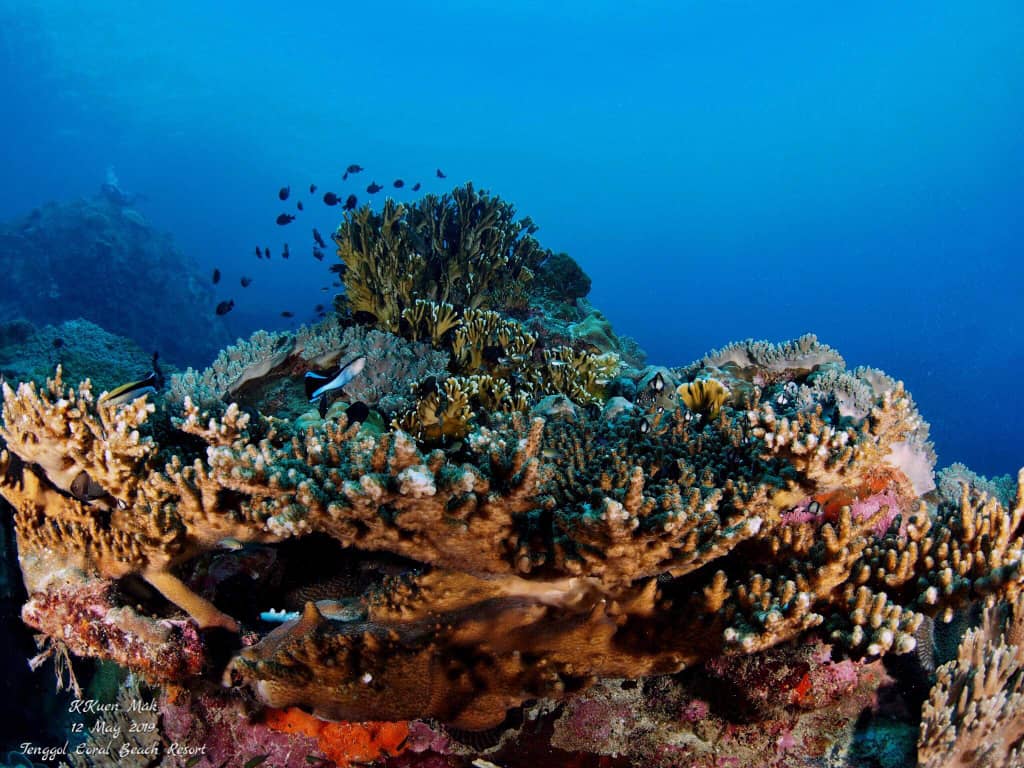 Pulau Tenggol's unspoiled natural beauty, crystal clear waters, and abundant marine life make it a must-visit destination for nature lovers and adventure seekers alike.Off the east coast of Peninsular Malaysia, lay some of Malaysia's best diving islands. Tenggol Island, in particular, is a hidden gem that should not be missed by diving enthusiasts. Located in Dungun, Terengganu, Tenggol Island offers an unforgettable underwater experience with over 20 dive sites that showcase unique treasures such as soft corals, batfish, nudibranchs, clownfish, and eerie shipwrecks. Despite its relatively small size, Tenggol Island attracts a vast amount of marine life and is a popular destination for thalassophiles.
Pulau Tenggol, a true haven for divers, is not just limited to underwater adventures. This tropical island also boasts a 200-year-old forest reserve, making it an ideal destination for eco-tourists and nature enthusiasts. The lush forest reserve is home to a wide range of flora and fauna, including rare species of birds and butterflies. Trekking through the dense jungle is an unforgettable experience, allowing visitors to discover the island's natural beauty and take a break from the underwater excitement. Pulau Tenggol is truly a paradise for those seeking both thrilling diving experiences and serene nature exploration.
Pulau Tenggol, also known as the island that resembles a crocodile, is a renowned diving paradise located off the coast of central Terengganu. The island is highly sought after by divers due to its healthy coral reefs and thriving marine life, making it stand out among other resort islands in the region.
However, what many do not realize is that this island, situated in the Dungun district, is also home to an abundance of natural treasures that remain untouched and unpolluted. The Pulau Tenggol Forest Reserve, which spans over 207 hectares, is over 200 years old and is a permanent forest reserve that was gazetted in 1941 to safeguard the virgin forest from encroachment and development.
According to Roslan Rani, the director of the State Forestry Department, the Pulau Tenggol Forest Reserve is one of Terengganu's 44 permanent forest reserves. The forest reserve is home to various plant species such as the Balau Laut and Meranti trees, some of which are aged between 150 and 200 years old.
Where is Pulau Tenggol located and what makes it a great destination for scuba diving? When is the best time to visit and how can you get there from Kuala Lumpur? Can you provide a list of the top scuba diving sites in Pulau Tenggol?
Pulau Tenggol is an island located off the coast of Terengganu, Malaysia, and is part of the Terengganu Marine Park. It measures only 3km in length and 2km in its longest width. Pulau Tenggol offers pristine marine life that is relatively untouched by tourism, making it the most popular choice among divers.
The island is secluded, serene and is well-known among the diving community as the best island to dive in Peninsular Malaysia. Highlights during scuba diving in Pulau Tenggol include diving with whale sharks and rare turtle species.
The best time to visit Pulau Tenggol is between March and the end of October, and October is recommended as the visibility is usually the best around that month. From November to the end of February is the monsoon season in the East Coast of Malaysia, and the island around Pulau Tenggol are off-limits to tourists.
To get to Pulau Tenggol from Kuala Lumpur, you can fly from KL to Kuala Terengganu or Kerteh Airport. From there, you can take a taxi or a bus to Kuala Dungun Jetty. Once at Kuala Dungun Jetty, the only way to get to Pulau Tenggol Island is by private boat transfer via the resorts or dive centres. You can also drive by car from Kuala Lumpur to Kuala Dungun Jetty and then take the private boat to get to the island. Alternatively, you can take a bus from Kuala Lumpur to Kuala Dungun, which takes approximately 7 hours.
Here are some of the top scuba diving sites in Pulau Tenggol:
Easy Dive Sites:
Turtle Point: Perfect for beginners with calm and clear conditions. Highlights include small nudibranch, sting rays, angel fish, and turtles.
The Lost World: A great spot to seek out micro sea life with an area totally covered in hard and soft corals, sea whips, sponges, and anemones.
Coral Garden: Teeming with pretty corals on every inch, this dive site offers calm conditions and shallow waters.
Easy to Intermediate Dive Sites:
Fisherman Wreck: A fishing boat that sank in an upright position and is bustling with underwater life when night falls. Highlights include long arm boxer shrimps, puffer fish, and baby leopard sharks.
Gua Rajawali: With a depth range of 8m – 25m, this dive site offers abundant soft corals and sea whips. Highlights include yellowtail barracudas, bamboo sharks, and nurse sharks.
Rajawali Reef: With its stunning coral garden and large schools of fish, this dive site is suitable for both beginners and experienced divers.
Tanjung Gemuk: With clear water and an abundance of marine life, this dive site offers a chance to spot leopard sharks, manta rays, and even whale sharks.
Batu Tokong: With its amazing underwater rock formations and diverse marine life, this dive site offers a unique diving experience. Highlights include large schools of fish, nudibranch, and bamboo sharks.
Tenggol Channel: With its strong currents and deep waters, this dive site is suitable for advanced divers. Highlights include schools of jacks, barracudas, and the occasional whale shark.
Tokong Laut: With its amazing underwater