"Around the north section of Tenggol island, we have eight dive sites. These sites range from sloping fringing coral edges to step sheer rock face drop-offs. The north part of Tenggol is the rockiest and has some of the most interesting rock formations with giant rock walls and structures almost temple-like underwater."
Rajawali Reef and Gua Rajaiwali & Tanjung Rajawai
Experience Level : Easy – Intermediate Depth: 8m to 25m Avg Visibility : 10-15m
Rajawali Reef and Gua Rajaiwali lay along the northwest tip of Tenggol island. Gua Rajawali starts as a shallow reef that banks down into the sand where soft corals and sea whips are plentiful. Schools of Yellow snapper and Jacks play here and the triggerfish can be frisky at certain times of the year. Always keep a lookout in the blue here for other larger paraplegic fish especially as you get further north closer to Rajawali reef leading into Tanjung Rajawali. Here the depth drops off faster and Manta-Ray and eagle Rays can sometimes be seen swimming by.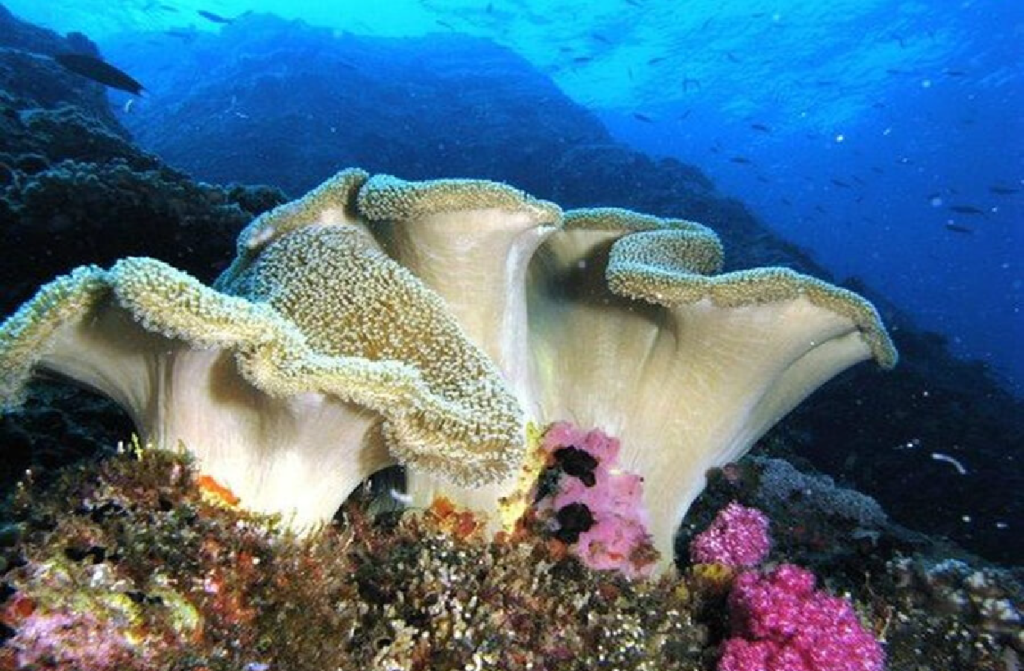 Teluk Rajawali Reef and The Lost World
Experience Level : Easy Depth: 10m to 18m Avg Visibility : 5m-15m
As we come around the Northwest tip of Tenggol you will see a large bay where the water laps the steep rocky inclines of the north of the island. Just around the corner and similar in topography to Tanjung Rajawali Teluk Rajawali flattens out to a more consistent depth. This reef is huge and leads right to and through what is known as the Lost world. Hard coral, soft corals, whips, sponges, and anemones totally cover this area. Large schools of fish play in the shallows and micro life happily hide and thrive in and among the rocks. Sometimes baby blacktip reef shark is seen here but they are very cautious of approaching divers. Great place for snorkeling also.
Tanjung Api and Sri Nokhota
Experience Level : Intermediate – Expert Depth: 12m to 30+m Avg Visibility : 10m-25m
On the most western tip of Tenggol towards the north, we have Tanjung Api and Sri Nokhota. These dive sites can be visited by open water divers but a reasonable range in experience ability is recommended due to the potential depth, current, and surge that can occur at these dive sites. This side of the island is characterized by steep rock faces that extend and slip down into the ocean floor. These rock walls are famous on Tenggol for the Nudibranch. As you venture deeper the rock formations get even bigger, some rocks under the ocean here are 20m tall and create vast underwater mounts covered in giant sea fans to explore. There are a vast range of Angle fish in these areas as well as large hump head parrotfish and schools of batfish. if you're lucky and venture out deeper you might even catch the manta rays playing around the end of the season.